The Second Book of Dooms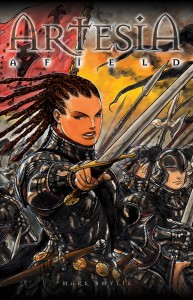 Artesia leads an army out of the Highlands to aid the Middle Kingdoms against the resurgent Empire of Thessid-Gola; the Empire's legions have swept across the land bringing death by sword and fire, forcing Awain, the High King of Therapoli, to split his army and attempt to relieve besieged cities.  As Artesia and her captains seeks to join the northern army led by the High King's marshal, the Grand Duke Owen Lis Red, they are confronted with the myriad dangers and distractions of life on campaign.  They encounter the Thessid enemy for the first time, meet and hire mercenaries from distant lands, and learn of the Empire's terrifying allies, the Isliklids, who heretically claim descent from Islik the Divine King.
And through it all, Artesia is plagued by dreams and haunted by ghosts, as she ponders the choices she has made, and those she hasn't…
Originally published by Sirius, then collected by Archaia.
[one_third]
Awards & Nominations
Selected as Best Comics Entry at the 2004 DIY Book Festival
[/one_third]
[two_thirds_last]
Critics' Reviews
"In but two collections Smylie has created perhaps the most fully realized fantasy world I've ever encountered, be it in prose or comics…  A triumph of richly woven plot, fully realized alien cultures, and all-out blood-letting."
— Bill Baker, Blood in the Gutters
"Thunderous wars drawn out over huge battlefields.  Mystical warriors crossed with flesh and blood soldiers.  A wondrous female lead that is as dangerous as she is beautiful and seductive… It is not easy to capture the horrors of war on paper, but this talented artist has found the way to do that.  It is hard to adequately describe Smylie's art except to boil it down to one simple word: amazing…  This book is of the highest quality…one of the best titles on the shelf today."
— Brian Jacques, www.ugo.com
"Artesia Afield is classic fantasy material done extremely well…and finding fantasy executed with this level of skill is very rare.  Mark Smylie has created a rich historical, political and religious background for his novel [and] Artesia is a real character, and she makes her choices with awareness of what they will cost herself and others."
— Petra at the Lair at www.noflyingnotights.com
"Beyond simple storytelling, the other extraordinary thing about this book is that it attempts to tell a story of ancient warfare on the Operational level.  Briefly, there are three levels of war: tactical, operational and strategic.  Tactics is how you win battles, and strategy is how you win wars.  Although both can be complex, they are both easier to understand than operations, which is the study of how you win campaigns. Operational planning seeks to string battles together to form a cohesive campaign to achieve limited and specific military objectives above division level.  I dare say that Artesia Afield is probably the only comic in history that has attempted to deal with war at this level; the study and planning required to pull it off must have been prodigious… This is a great book.  If you're a fan of military history or of epic fantasy, Artesia Afield is definitely for you…  I guarantee you'll see some things here that you've never seen before in a comic.  This story is one of the uniquely great stories in independent comics."  Grade: A
 — Dan Head (US Military Academy Class of 1995; former SQDN Planner, 4th Squadron, 7th Cavalry), Comics You Should Be Reading at www.paperbackreader.com
[/two_thirds_last]